Morse, Giesler, Callister, Karlin & Hiura is now Karlin, Hiura and LaSota
Tuesday, September 4, 2018 | 1039 | 0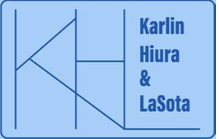 Morse, Giesler, Callister, Karlin & Hiura is now Karlin, Hiura and LaSota
A new era begins for the firm of 24 years
Glendale, CA – August 31, 2018 – Beginning September 1, 2018, Morse, Giesler, Callister, Karlin & Hiura (MGCK&H) will be known as Karlin, Hiura & LaSota (KHL). The firm is adopting this new name following the retirement of long-time colleagues and partners Greg Giesler and John Callister. Fellow founding partner, Steve Morse, retired 4 years ago.
Adopting not only a new name, but a new style and website, the partners wanted to showcase the growth of the firm over the last 24 years, and their success as a statewide California Defense Workers' Compensation firm. What began as a two person law firm three decades ago, has become an established and well-respected defense firm with seven offices throughout the state. The firm has been ahead of the curve, having gone paperless over four years ago, an act which allows them to better serve and represent clients at Workers' Compensation Boards across California. Karlin, Hiura & LaSota is proud to continue to highlight the service and expertise that makes the firm distinctive in the Worker's compensation community.
Many law firms carry on with the same name for generations to signal continuity and stability. In changing the firm name, the partners are better able to reflect the future of the firm and its dedication to providing the best customer service resulting in early case resolution. They remain committed to working together with their clients and delivering the same excellent work they always have during this exciting transition.
For all inquiries, please email: info@KHLlawyers.com or call (818) 649-3200, and visit their new website at www.KHLlawyers.com .
KHL is a California Workers' Compensation Defense firm with offices in Glendale, West LA, Ontario, Orange, Sacramento, San Jose and San Diego. The firm and its attorneys understand that the longer a case stays open, the more expensive it becomes. They strive to identify exposure promptly and communicate it to clients in a timely manner, along with recommendations for future handling. This serves as a means to move cases forward to resolution.
Contact:
(818) 649-3200