WorkCompCentral Announces Comp Laude® Awards & Gala Keynote Speakers
Thursday, October 5, 2017 | 2347 | 0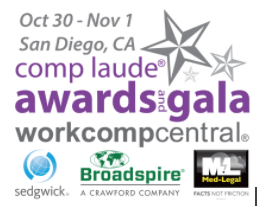 2.5 day event features keynote speakers Robert Pearl, MD, author of "Mistreated" and Amelia Rose Earhart, female around the world pilot!
Camarillo, Calif., October 5, 2017 WorkCompCentral announces the keynote speakers for the 2017 Comp Laude® Awards & Gala. The annual event takes place October 30 - November 1 at the Manchester Grand Hyatt in San Diego, CA.
Kristen Chavez, Director of Business Development said, "We are excited about moving our event to San Diego and our expanded program of two and a half days. Our agenda focuses on how we, as a community of professionals, can improve the delivery of workers compensation benefits, through intense engagement and collaboration."
Additional speakers include:
Cyndy Larsen, Kaiser on the Job

Tammy Ciraulo, Stater Bros. Markets

John Riggs, Disneyland Resorts

Beth Darnall, Stanford University

Kimberly George, Sedgwick

Denise Algire, Albertsons Companies

Rick Taketa, YORK Risk Services Group

Jay Ayala, Sedgwick

Dawn Watkins, LAUSD

Melissa Steger, The University of Texas System

Hon. David Pollak, WCAB

Mark Walls, Safety National

Matthew Graulich, Whole Foods

Marco Iglesias, MD, Broadspire

Stuart Colburn, Downs & Stanford

Chikita Mann, Genex

Trecia Sigle, Nationwide

Laurence Miller, MD, Anthem

Bill Pipkin, Austill, Lewis, Pipkin & Maddux

Carol Murphy, Aon Risk Solutions

Chris Brigham, M.D., Brigham & Associates, Inc.

Becky Curtis, Take Courage Coaching

Hon. David Langham, Florida OJCC

Robert Rassp, Applicant Attorney
The 6th annual event includes sessions focused on how industry professionals can collaborate, advocate and move the industry towards a more positive culture, a series of sessions focused on Medicare Secondary Payer Compliance, the Comp Laude® People's Choice Awards, a series of TED-style presentations where the audience votes to select the best presenter, coveted Comp Laude® Awards ceremony a masquerade ball and more!
The conference features over 60 speakers and presenters with 40 exhibitors. Proceeds from the event benefit Kids Chance of California and the David J. DePaolo Memorial Scholarship. All industry professionals are encouraged to attend. For full event details click here.
About WorkCompCentral
Based in Camarillo, Calif., WorkCompCentral is the nation's only digital publication reporting daily on the workers' compensation industry. The company also produces live events and continuing education courses and can be reached toll free at 866-975-2667. and via www.workcompcentral.com.
Media Contact:
Yvonne Guibert, 813.245.0193
yguibert@workcompcentral.com