2018 Comp Laude® Awards Winner Information
Monday, November 12, 2018 | 286 | 0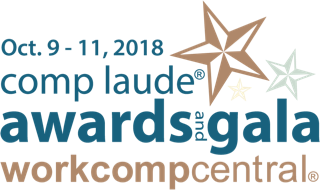 The winners of the 2018 Comp Laude® Awards have been posted! These fifteen recipients have demonstrated exceptional commitment to the field of workers' compensation and have been recognized as leaders driving positive change.
To view their interviews and learn more about these recipients, click here.
These individuals were nominated by their peers and colleagues, assessed by a nominations committee, interviewed by a vetting committee, and their merit then determined by a judging committee. They have advanced through these three rounds of elimination and have been clearly determined as leaders within their respective categories.
On behalf of WorkCompCentral, we'd like to extend our sincere thanks for all that you've done and continue to do to change the narrative of workers' compensation.
WorkCompCentral would like to thank all those who nominated, participated in, and attended the 2018 Comp Laude® Awards & Gala. It was a special year and we look forward to continuing the efforts to change the story of workers' compensation.
Beginning in 2011, Comp Laude® set out to change the narrative of workers' compensation to a more positive dialogue and bring all stakeholders to the table to participate in the conversation. The conference is inspired by the vision of WorkCompCentral's founder, David DePaolo, who believed "The Grand Bargain is alive and well when we do the right thing." We continue our tradition of offering up a powerful educational agenda produced by industry experts, along with the awards ceremony and the speciality events: People's Choice & Speed Networking. Comp Laude® is a must-attend event for those in the industry who want to stand out by making a positive impact. The Comp Laude® Awards & Gala promises to elevate you and the workers' compensation industry to an entirely new level of understanding, recognition, and positivity!
2019 Comp Laude® Awards & Gala will be held October 30 - November 1, 2019 at the Manchester Grand Hyatt in San Diego, CA. Nominations for 2019 Comp Laude® Awards are now open!  Click here to tell us who deserves to be honored!