> >
Report: State Plan Would Regulate Air Ambulances Like Utilities
Friday, May 17, 2019 | 527 | 0 | 42 min read
The Wyoming Department of Health is drafting a plan for the state's Medicaid system to cover air ambulance service for all state residents.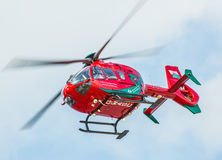 Officials expect to submit the plan to the federal Centers for Medicare and Medicaid Services this year, the Casper Star Tribune reported.
Under the plan, the state would treat air ambulance service like a utility, giving a regulated monopoly to a certain number of providers, a Health Department official told the publication.
The state would determine the number of air ambulance bases throughout the state, and providers would bid to establish the bases. A statewide call center would direct cases to providers selected through the bidding process.
If a community that wasn't selected through the state's process wants a base, it could pay to add one.
The Department of Health is drawing up the plan in response to House Bill 194, signed into law in March, which requires the expansion of Medicaid coverage for air ambulance service.