Examples of Artificial Intelligence in Workers' Compensation & Managed Care
Tuesday, November 8, 2022 | 0
By: Nikki Jackson, CPCU, ARM, CDMS
Powerful innovation is fueled by artificial intelligence and 5G, but as busy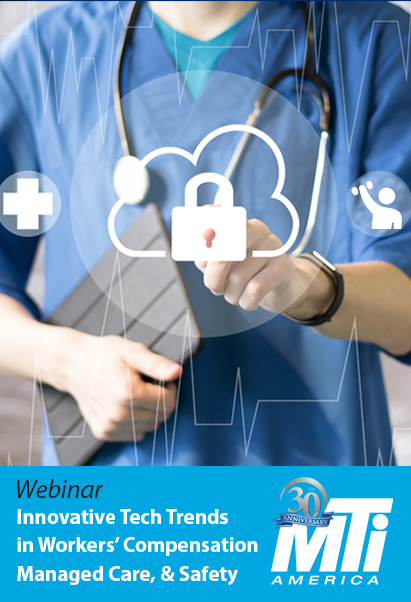 professionals, we may struggle to understand how these ingredients impact workers' compensation programs. Truth be told, technology and the concept of digital transformation have accelerated at an incredible pace in recent years. In fact, it is resonating through almost every aspect of the claims journey through technology-enabled apps, cloud technology, rapid advancements in clinical and operational systems, staffing, and overall culture.
At its core, artificial intelligence is the ability of a computer to perform tasks that we commonly associate with intelligent beings. AI is often the project of developing systems endowed with the intellectual processes characteristic of humans, like our ability to reason, discover meaning, generalize, or learn from past experience. Say what? Let's go through a few examples.
Like many of you, I do a lot of online shopping, and there is no denying the power of AI in eCommerce. Think about the notifications, ads, or recommendations that pop up on your devices when you've purchased or searched for a product.
Not a fan of online shopping? Think about the airline industry. There are tons of examples of AI usage such as revenue management, crew management, and fuel efficiency. As passengers, we want the airline to communicate with us when issues arise. So, when my flight was delayed last month on the way to National Comp, not only did I receive timely communication and apologies about the delayed flight, I also received recommendations for food and shopping experiences. We call this messaging automation.
At MTI America, we provide a host of health care, transportation, and language services for injured workers. One of the health solutions includes diagnostics. In this space, AI powers advanced medical screenings, improves precision medicine, and can help us indicate and assess risk.
Coupling AI with 5G can deliver massive economic and societal benefits, and we're seeing it transform our industry. Fifth-generation wireless (5G) is simply the latest iteration of cellular technology, and it's engineered to greatly increase the responsiveness and speed of wireless networks — a major factor for apps that require real-time, high-quality video such as health care or interpretation delivery platforms.
AI is also impacting remote patient monitoring. IoT refers to "The Internet of Things" which describes physical objects with sensors, processing ability, software, and other technologies that connect and exchange data with other devices and systems. Remote patient monitoring is the most common application of IoT devices for health care. Using IoT devices, our providers can remotely monitor vitals, track movement, and transfer current data to help therapists make faster, more informed decisions.
Another core function of AI is predictive analytics. Predictive analytics tools collect data from a variety of internal and external sources to help us understand and predict behavior, trends, and actions. These predictive analytics tools are often driven by machine learning which models human thought. Many of you may have heard of predictive modeling, which is a form of predictive analytics. A vendor, TPA, broker, carrier, etcetera, may look at an organization's claims data to predict if the current claim has the likelihood of becoming a high-cost loss.
At MTI America, our physical medicine providers can use predictive analytics to assist in decision-making and evaluate big data, ultimately improving patient outcomes and providing relief for healthcare workers. For example, machine learning algorithms can be programmed from big data and past patient outcomes to provide treatment insights that work best for the current patient.
Want to learn more? Register for Innovative Tech Trends in Workers' Compensation, Managed Care, & Safety, a virtual webinar hosted by WorkCompCentral on Nov. 17 at 1 p.m. Eastern. Register here.
Joining me to discuss AI impacts in their lives and organizations are:
Melora Copeland, Director of Insurance at Compass Group.
Dr. Claire Muselman, Cheif Risk Officer at Emory Industrial Services.
Zack Craft, ATS, ATP, Rehab Engineer.
References:
5G in healthcare global market report 2022. Yahoo! Finance. (2022, June 29). Retrieved July 5, 2022, from https://finance.yahoo.com/news/5g-healthcare-global-market-report-151000182.html
Benham, J. (2021, September 1). Episode title (No. 40) [The Future of AI, Wearables, and Mobile Apps in Workers' Comp]. In AI Wisdom. Chisel AI. https://www.chisel.ai/blog/ai-wearables-and-mobile-apps-in-workers-comp
Dick, S. (2019). Artificial Intelligence. Harvard Data Science Review, 1(1). https://doi.org/10.1162/99608f92.92fe150c
Pant, M., Malviya, L., & Choudhary, V. (2022). Performance improvement of 28 GHz antenna array for fifth-generation wireless communication system. In Recent Trends in Electronics and Communication (pp. 371-380). Springer, Singapore.
Tamrakar, A., Shukla, A., Kalifullah, A., Reegu, F., & Shukla, K. (2022). extended review on internet of things (IoT) and its characterisation. International journal of health sciences, 10.