Horse Racing Comp Premiums to Drop
Thursday, January 3, 2019 | 0
After years of spiraling workers' compensation costs that some said have threatened to drive horse trainers and owners out of state, the New York horse racing industry is starting to see some relief.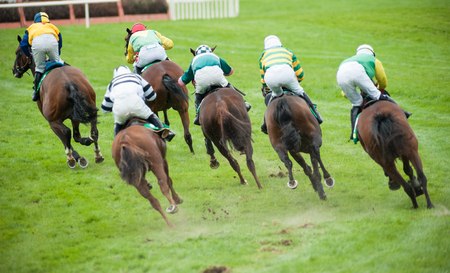 The New York Jockey Injury Compensation Fund this week announced that initial base payments will drop for the first time, slipping from $1,500 to $1,250, according to racing industry news reports.
The base rate is tacked on to the assessment that owners must pay when a horse is entered in a race, and industry representatives said the 17% reduction is a significant improvement.
"It covers everyone on a horse, so there's no guessing who the employer is," Johnathan McCardle, a lobbyist for the New York Thoroughbred Horsemen's Association, said Wednesday.
The reduction comes one year after the Jockey Fund reduced workers' compensation premiums for 2018 by $750,000, the first decline in a decade, the BloodHorse racing publication reported. Comp insurance has cost the industry about $9 million a year, the publication noted.
Officials credited several safety initiatives that have reduced injuries, including:
Widening the training track at Belmont, home of the Belmont Stakes, the third leg in horse racing's Triple Crown.
Keeping paramedics and emergency medical technicians on duty during training and racing events.
Breathalyzer tests for exercise riders.
Updating helmets and safety vests to meet code, and issuance of armbands that clearly designate exercise riders. Riders cited for safety infractions must wear red armbands and pay fines.
Publication in English and Spanish of an exercise rider handbook, which spells out safety rules.
Safety seminars for track and stable workers, and security guards.
"We have created initiatives to promote a safer workplace," Joe Applebaum, president of the Jockey Fund and the Thoroughbred Horsemen's Association, told BloodHorse. "Our relationship with our carrier, Zurich America, has provided superior claims management and oversight, further helping to lower premiums. We have also put in place programs to help offset the burden on our owners and trainers."
But the industry is hedging its bets. Some owners and trainers said last month that they are considering moving some or all of their operations out of New York, despite the recent reductions in comp costs and the high purses that state tracks will pay.
"It's very expensive to operate in New York," trainer Robertino Diodoro told DRF, another industry publication and website. "It's not how much money you make, it's how much you spend."
There are several layers to workers' compensation for horse racing in New York, the publications explained. Trainers have to pay the annual premium base rate plus a fee of $1.60 per stall, per day, for a compensation policy.
Owners also pay an annual $1,500 premium plus 2% of purse money earned.
That fee is actually closer to $3,000, but has been offset by legislation that allows the horsemen to use as much as $2 million from the purse cushion to pay for it.
Legislation authorizing that mechanism must be renewed every year and is being closely watched again this year, McCardle told WorkCompCentral.
Trainers must also have a comp policy for their stable help, such as hot-walkers and grooms. That policy can cost up to 25% of a horseman's payroll. In other states, the cost ranges from about 5.46% in Arkansas to 10.8% in Florida, according to the news reports.
"Our job is far from done, but we are trending in the right direction," Appelbaum said. "We believe that our collective efforts will continue to drive down the cost of doing business in New York."