Sullivan on Comp to Host Webinar Talk with George Parisotto
Tuesday, October 8, 2019 | 206 | 0
Sullivan on Comp is hosting a free webinar, A Talk with George Parisotto, Administrative Director of the California DWC airing live on Thursday, October 17, 2019 at 1:30 p.m. PDT.
To register for the webinar, go to https://www.sullivanoncomp.com/talk-with-george.
Access to this webinar will be made available to all registrants but space is limited, so Sullivan on Comp subscribers will be given priority access. Others will be registered on a first-come, first-served basis.
Michael Sullivan, author of Sullivan on Comp, and George Parisotto, Administrative Director of the California DWC will discuss the current state of the workers' compensation system. They'll clarify the role of the AD and the Division and where it stands in relation to other governmental entities. They'll also talk about the current priorities of the DWC and Director Parisotto's vision for the future.
Call 866-458-8762 or email support@sullivanoncomp.com with questions.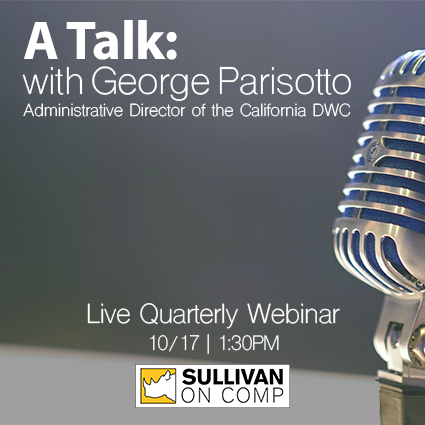 About Sullivan on Comp:
Sullivan on Comp is best known for its treatise on California workers' compensation law. Sullivan's comprehensive and straightforward style has earned the trust of applicant and defense attorneys, third party administrators, insurance companies, and employers alike with a subscribership over 6,000. Sullivan on Comp's digital suite includes the full treatise, monthly case law updates, industry-leading commentary, 17 benefits calculators and a library of 70+ accredited webinars all produced with the work comp professional in mind.