Report: San Diego Cops Claim Religious Exemption to COVID Test
Friday, June 17, 2022 | 0
The National Public Radio and Public Broadcasting Service affiliate in San Diego reports that about 10% of local police have claimed nasal swab tests for COVID-19 violate their Christian beliefs.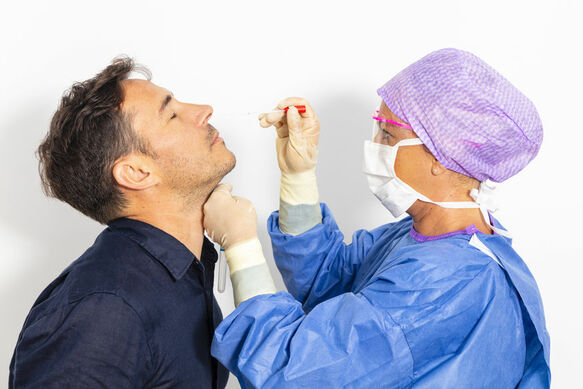 According to the report, the officers requesting religious exemptions for vaccines or COVID-19 tests tended to use identical language in their applications. Nineteen officers used the phrase, "I trust in God's perfect design of my body," according to the report. Four more used that phrase and added to it that the vaccine and swab test "are an unneeded introduction of drugs/chemicals into my body."
KPBS reports the city approved "the vast majority" of officers' requests to skip the COVID-19 vaccine with the stipulation that they submit to regular testing.
"The city's Human Resources Department is working to find a resolution with employees who then also refuse COVID tests on religious grounds," according to the report. "Meanwhile, the unvaccinated employees are not taking tests and remain on the job."
California lawmakers are considering extending until 2025 the presumption that police, firefighters and other first responders contracted COVID-19 through employment if they test positive for the disease within 14 days of going to work.
AB 1751, by Assemblyman Tom Daly, D-Anaheim, would extend COVID-19 presumptions lawmakers created for first responders and others in 2020. Workers who aren't first responders are eligible for the presumption only if they test positive within 14 days of going to a workplace that was experiencing an outbreak.
The presumption applies whether workers refuse the vaccine and without regard to their refusing to submit to regular COVID-19 tests in lieu of vaccination.
Employers have argued that the presumption isn't as important now that vaccines are available and that they know more about how to protect their workers from the disease.
But an analysis by the Assembly Insurance Committee says the virus continues to be a crisis for first responders and "intuitively makes sense to continue a presumption for these workers and provide peace of mind to these first responders, should they contract COVID-19."
The analysis also concludes that "there is no real detriment" to extending the presumption because as the spread of COVID-19 diminishes, claims will naturally decrease and the presumptions will be used less frequently.
The Assembly voted 58-10 to pass AB 1751 in May. The bill is awaiting a hearing in the Senate Committee on Labor, Public Employment and Retirement.