> >
Vehicle Crashes Drawing More Attention From Comp Carriers
Tuesday, March 13, 2018 | 1524 | 0 | 43 min read
As the nation's roads have become more dangerous, at least one workers' comp carrier has seen a steady increase in the percentage of claims related to motor vehicle accidents over the last decade.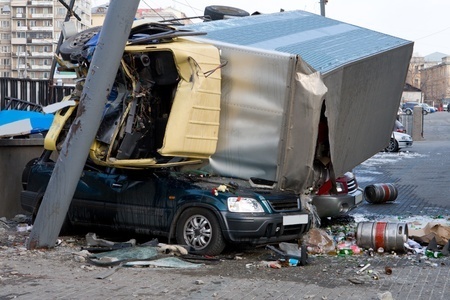 At AF Group, vehicle-related workers' comp claims have climbed steadily, from 1.95% of total claims in 2007 to 3.5% of total claims in 2017. And losses attributable to vehicle-accident related claims grew, from 5.14% of total incurred losses in 2007 to 7.94% of total incurred losses in 2017, according to data provided by the company.
Actual numbers of vehicle-related workers' comp claims also have been increasing every year at AF Group since 2007, as well as dollars paid out, although the company declined to provide specific figures. The data include AF Group's four brands: Accident Fund, United Heartland, CompWest and Third Coast Underwriters.
"Through our loss-control efforts, we continue to emphasize safe driving," said AF Group spokesman Bob Lapinski. "But it appears that our nation's highways are more dangerous than ever before. And it's having a huge effect on WC claims."
Claims related to vehicle crashes are also being watched at Amerisafe, a monoline workers' comp carrier that specializes in insuring small to mid-sized businesses in high-hazard industries.
Amerisafe Chief Executive Officer Janelle Frost said during a fourth quarter earnings call on Feb. 27 that the number of claims reported was down by about 3.4% in 2017, but severity seems to have increased.
"I do think, at least in accident year 2017, we did see more severe accidents. We saw a lot of single-vehicle accidents, which you know, we're trying to figure out, what does that mean in terms of the data?" Frost said. "Is that something new that we're going to see? There's lots of nationwide data out there about distracted driving and those sorts of things."
Distracted driving is one likely culprit in the increase in vehicle-related workers' comp claims, as reliance on cellphones increases, said Dave Brandolino, loss control manager for Third Coast Underwriters.
Even with a hands-free cellphone, the conversation alone may decrease drivers' ability to observe their surroundings, he said.
"You lose focus on the road," Brandolino said. "Your brain just cannot do two complex functions at a time."
In addition to the potential distraction of technology, more vehicles are on the road. Traffic congestion has increased, even in cities that just a few years ago seemed easy to navigate, Brandolino said.
Motor vehicle fatalities in the U.S. surged to 40,327 in 2016, then dropped about 1% last year to 40,100, the National Safety Council reported. The 2016 total was 7% higher than in 2015, which in turn was 7% higher than 2014.
About 4.57 million people were injured seriously enough to require medical attention in motor vehicle crashes in 2017, according to NSC. That figure that was down about 1% from 2016.
At the same time, transportation incidents were the leading cause of work-related deaths in 2016, accounting for 40% of fatalities, the U.S. Bureau of Labor Statistics reported.
As for the role of driving distracted, 3,477 people were killed, and 391,000 were injured in motor vehicle crashes involving distracted drivers in 2015, according to data from the National Highway Traffic Safety Administration.
To encourage safer driving behavior among policyholders' employees, Brandolino is a fan of telematics, in which a device is installed in vehicles to track driver behavior. The device can monitor activities such as speeding, swerving and hard braking.
Because gathering too much data may be overwhelming, Brandolino recommends using telematics to track hard braking. That action is the culmination of other unsafe behaviors, such as speeding, following other vehicles too closely or taking one's eyes off the road, he said.
In addition to looking at individual driver behavior, telematics data can be used to spot hazardous conditions in certain places and times, Brandolino said. For example, a lot of hard braking by drivers heading into a city via a certain route could prompt the employer to switch the drivers to a different route or change the time of day they travel that area.
Telematics is evolving so that installing hardware into vehicles may no longer be required. A San Francisco-based startup called Zendrive offers a cellphone app that can similarly track driver behavior, including whether someone is using the phone while driving. The app also indicates when a vehicle has been in an accident, which may help verify crash-related claims.
In November, the company analyzed driver data it had collected to determine the most hazardous commute routes in the San Francisco Bay Area.