Mike Hessling to Lead Gallagher Bassett North America
Tuesday, February 4, 2020 | 209 | 0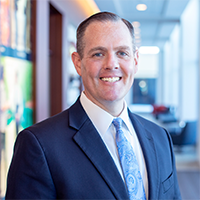 We are pleased to announce the promotion of Mike Hessling to the role of CEO, North America. The position is effective immediately and reports directly to Gallagher Bassett Global CEO, Scott Hudson.
When asked about the newly created role to lead North America, Mr. Hudson stated, "Mike has been a leader with GB for over seven years and has a tremendous track record as North America Chief Client Officer, leading our sales and account management teams. He has also been a driving force behind the building of our industry-leading analytics team. Mike's knowledge of the North America market, proven ability to work across all functions, and passion for GB's culture and team, makes him the perfect person to lead our North America business."
On his promotion, Mr. Hessling said, "I'm excited and humbled to lead GB's North America business. We have an incredible team of talented professionals, who are extremely passionate about making a positive impact for our clients, their businesses and the people they employ and serve."