Employment Law Issues in Workers' Compensation Webinar
Tuesday, May 4, 2021 | 69 | 0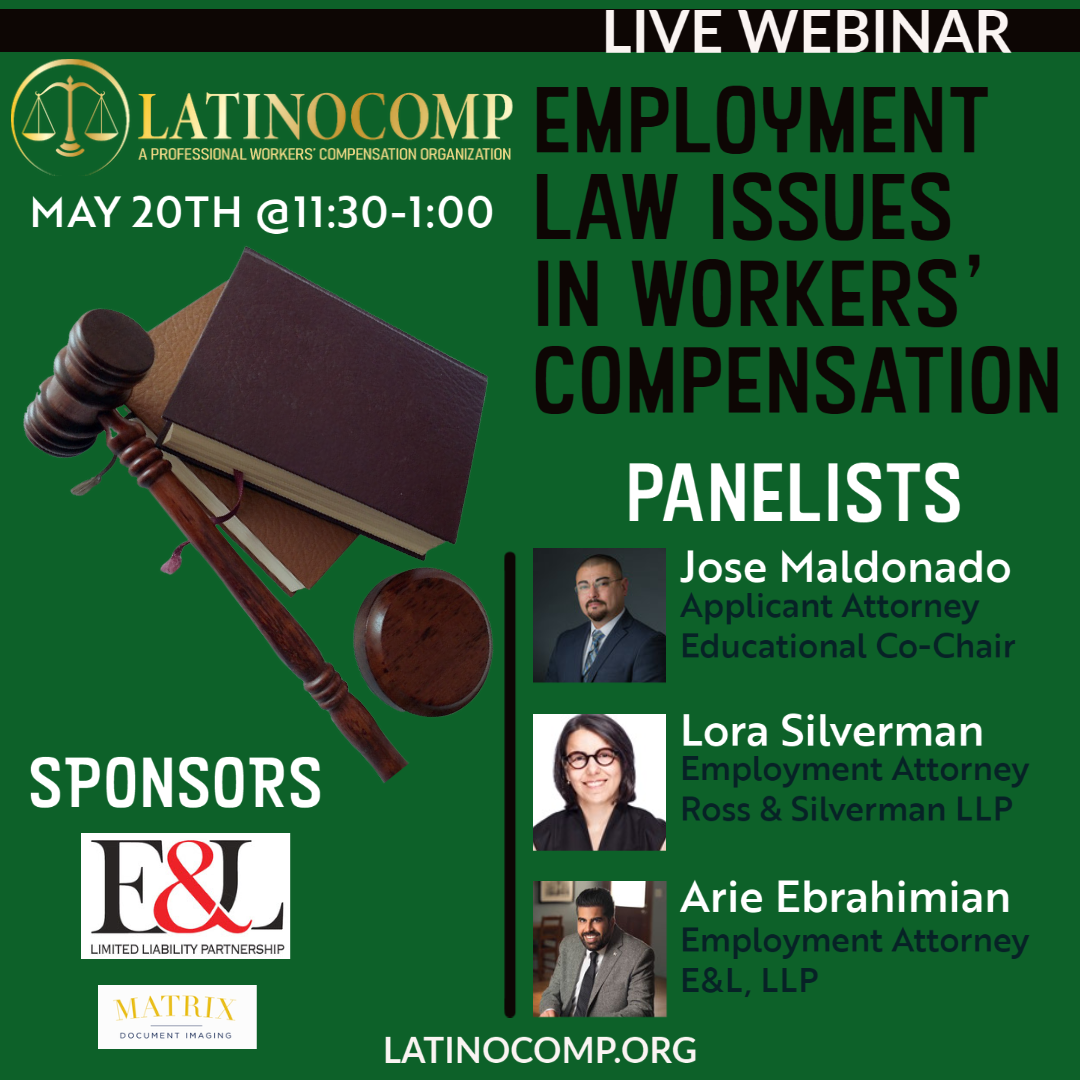 LatinoComp is hosting a LIVE Webinar on May 20, 2021, starting at 11:30 AM PT - 1:00 PM PT. While COVID-19 may have disrupted our ability to convene for in-person CLE, LatinoComp is still able to serve as your local resource for professional and top-rated workers compensation CLE education, now available LIVE Online.
Join our top-rated panelists Jose Maldonado, Applicant Attorney, and LatinoComp Educational Co-Chair, Lora Silverman, Employment Attorney at Ross & Silverman LLP, and Arie Ebrahimian, Employment Attorney at E&L, LLP discussing Employment Law in Workers' Compensation.
We have partnered with WorkCompCentral to bring you LIVE monthly webinars. All programming will be available for streaming using GoToWebinar to your location of choice, whether at your office or home computer. All LIVE webinars will provide lawyers with an hour and a half of continuing legal education, teaching relevant skills you can immediately put to work in your practices. Our webinars will provide valuable insight, credible expertise, and the most up-to-date workers' compensation information. Thank you to our sponsors E&L, LLP, and Matrix Document Imaging.
You will still have the ability to ask the panel questions and receive an informative syllabus that can be used in your everyday businesses.
We are educating ourselves daily, focusing on preventative measures, and most of all the health of our community. LatinoComp looks forward to seeing everyone online. www.latinocomp.org
REGISTER ONLINE Questions admin@latinocomp.org