> >
Hearing Representatives: Lien Declaration Requirement Causes Friction, Litigation
Wednesday, August 9, 2017 | 2859 | 0 | 24 min read
VAN NUYS, California — Lien claimant hearing representatives sat around a table on Tuesday talking about what one of them called the latest roadblock erected for lien claimants: Labor Code Section 4903.05.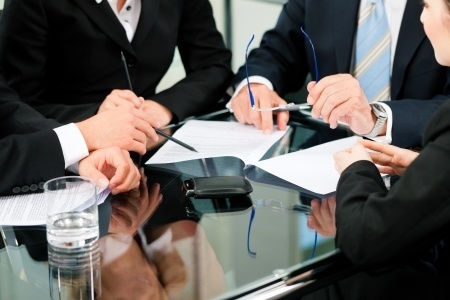 The regulation, which went into effect Jan. 1, requires lien claimants to submit a declaration of eligibility form with each lien. The form outlines seven acceptable premises for liens. Lien claimants must select a premise and sign the form, which amounts to declaring, under the penalty of perjury, that their services were rendered for a reason that the workers' compensation system deems legitimate.
Hearing representatives have different theories about why the regulation came about. Some say it's another attempt to keep liens out of the system. Others say it's simply an attempt to keep tabs on why people are filing liens, for statistical purposes.
But they agree that the declaration form often causes friction during hearings.
"The trust between the defense attorney and the hearing representative is no longer there," said lien representative David Bautista, who has also worked for the defense side. "It used to be, 'Let's do 30% to 40%.' Now it's, 'Show me your declaration.'"
"Defense attorneys keep harping on the 4903.05 declaration," agreed Greg Lewis, a longtime hearing representative who currently works for Liening Edge in Corona, California.
The hearing representatives were attending a weekly lien consolidation hearing, which started, in part, because of the new lien declaration rules required by passage of Assembly Bill 1160 last year. The Workers' Compensation Appeals Board began in May holding the lien hearings every Tuesday at the Van Nuys District Office under Judge William Gunn.
Lewis said that the premise he uses most often to justify his clients' liens is 4903.5(e), which states that the medical treatment came about because "medical treatment has been neglected or unreasonably refused to the employee."
Selecting 4903.05(e) as a reason for filing a lien requires hearing representatives to produce documents proving that the employer/carrier denied the worker medical care. The question then becomes, "What constitutes documentation?" said Ted Durden, a hearing representative who has worked in the field for 25 years. Durden said some judges are more strict about the matter than others.
Erick Sandoval, a recently graduated law student who has clerked at the Law Offices of Hanna Brophy for three years, said that not every defense attorney or judge harps on the 4903.05 declaration. The declaration form tends to be an issue only for clients who want the lien proceedings to enter the litigation phase, he said.
Sandoval tends to represent clients who want to resolve liens during the hearing phase. With only three hours to settle the lien during conferences, Sandoval said he focuses on issues such as the medical-legal documents and the statute of limitations.
Arguing with the hearing representative over whether his documents adequately prove denial of care, or asking the representative to produce additional documents, results in delays that could lead to a continuance or the proceeding entering the litigation phase, Sandoval said.
"My clients hate continuances. Judges hate continuances," Sandoval said.
To clear up confusion about what documents constitute proof of denial of care, the Department of Industrial Relations published a document in May that speaks to 4903.5(e). DIR entered the document as a reply brief in a lawsuit filed by a group of interpreters challenging the regulation, saying that the seven acceptable premises for liens did not include a premise that described interpreter services.
The interpreters said 4903.05(e) seemed to require lien claimants to produce medical records to which they might not have access. DIR said that's not true.
"This is not a burdensome requirement. It is not a complicated legal standard, it need not be based on medical records of any kind, and it need not be based on any specific form of documentation," the DIR wrote. "A simple letter from the insurance company denying the claim, demonstrating why the worker is self-procuring care, would suffice under Section 4600 and the new provisions of Section 4903.05."
Bautista said many carriers are "trying to make it a much higher standard." He said that when defense attorneys begin arguing with him about whether a document constitutes proof of denial of care, he often opts to take the case to trial.
Lewis said the same is true for him.
"I think what this does is create more litigation," he said.
Still, many lien conferences at the Van Nuys WCAB lead to a settlement, defense attorney Jeff Solomon said. He said most of the Van Nuys WCAB's daily hearings are related to liens, though he's seen slightly fewer lien claimants since SB 863 and SB 1160 were passed.
"It's cut down probably 15% to 20%," he said. "Before the DIR started cracking down on liens, putting in statutes of limitations and other regulations, it was a complete zoo."