> >
Judge Orders Employer to Reimburse Worker for Medical Marijuana
Wednesday, January 11, 2017 | 2430 | 0 | 76 min read
As more states have legalized the medicinal use of marijuana, the number of jurisdictions that accept marijuana as a compensable treatment for injured workers has also been on the rise.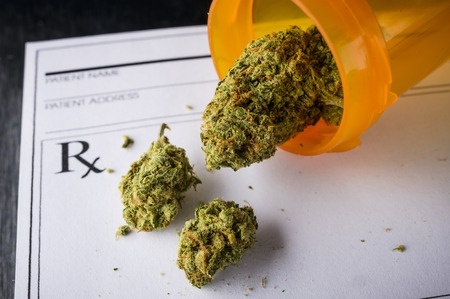 In December, New Jersey jumped on the bandwagon with an administrative law judge's decision for Watson v. 84 Lumber.
New Jersey's Compassionate Use Act specifically says that its provisions cannot be construed to require a private health insurer to reimburse a person for costs associated with the medical use of marijuana, but this issue didn't come up in the Watson case.
Andrew Watson had injured his hand on a power saw while working for 84 Lumber. He settled his comp claim in 2012, and the terms of the settlement authorized ongoing pain management treatment with Dr. Peter Corda.
Corda treated Watson's complex regional pain syndrome with Oxycodone and lidocaine patches until 2013, when Watson asked about participating in New Jersey's medical marijuana program.
Dr. Corda referred Watson to his partner, Dr. Jeffrey Drew Polcer, who possessed the required credentials to do medical marijuana evaluations. Polcer opined that marijuana could ease Watson's neuropathic pain as well as reliance on narcotic medication.
Watson purchased marijuana at authorized dispensaries and submitted the bills to 84's claims administrator, Gallagher Basset. The third-party administrator refused to reimburse him for the bills, so Watson filed a motion to enforce the terms of the 2012 settlement agreement.
Drs. Corda and Polcer both refused to testify at trial before Judge of Compensation Ingrid L. French because of their ongoing business relationships with Gallagher Basset. Thus, Watson presented the testimony of Dr. Edward Tobe instead.
Dr. Tobe was the only expert to testify. He said the use of marijuana was medically appropriate in Watson's case.
On Dec. 15, Judge French issued an order requiring Gallagher Basset to pay for Watson's marijuana.
While the judge acknowledged the existence of a controversy surrounding the medicinal use of marijuana, she reasoned that the use of the drug "is a medical decision that is within the boundaries of the laws in the state of New Jersey."
As "all of the credible evidence presented confirms that this petitioner is an appropriate candidate for New Jersey's medical marijuana program," and his marijuana use has allowed him to reduce his use of narcotic medication, French found the marijuana was "reasonable and necessary" treatment for which Gallagher Basset was liable to provide.
John Carvelli of Cipriani & Werner represented Gallagher Bassett Services before the judge. He issued a statement to the Philadelphia Media Network last week indicating the TPA will not be appealing the judge's decision.
Jon Gelman, a Wayne-based claimants' attorney who reviewed the decision, said he doubted an appeal would be successful. To Gelman, the case was "a slam dunk."
There are now 29 states that allow marijuana to be used for medical purposes, eight that allow recreational use, and six that have allowed injured workers to obtain medical marijuana through their workers' compensation systems, at least in some circumstances.
New Mexico was the first to order a workers' compensation insurance carrier to provide reimbursement for a worker's medical marijuana, in 2014.
Then in 2015, the Minnesota Department of Labor and Industry adopted a rule establishing that medical marijuana is not an "illegal substance" for injured workers under state law, even though it remains Schedule I drug under the federal Controlled Substances Act.
Last May, the Connecticut Workers' Compensation Commission Review Board upheld an award of payment for a worker's medical marijuana in a case called Petrini v. Marcus Dairy.
Four months later, the Maine Workers' Compensation Board's Appellate Division upheld awards reimbursing workers for their medical marijuana expenses in back-to-back decisions for Bourgoin v. Twin Rivers Paper Co., and Noll v. Lepage Bakeries.
According to a presentation by Massachusetts attorney Edward M. Moriarty Jr. at the New England Workers' Compensation Seminar in October 2016, the Massachusetts Department of Industrial Relations has issued at least two orders for reimbursement of medical marijuana as well.
Paul Armentano, the deputy director of the National Organization for the Reform of Marijuana Laws, on Tuesday said "the general take-away from all of this is that there is a growing recognition, from not just the public and the health community, but also from the legal community, that marijuana is a safe, effective and conventional medication."
But Mark Pew, senior vice president of the medical cost-containment firm Prium, said he thought the interplay of medical marijuana and workers' compensation still "escapes a broad-brush analysis."
Pew said some insurance carriers that are dead-set against ever paying for marijuana as long as it remains an illegal substance under federal law, but others voluntarily pay for it, and still others pay only if they receive a court order.
When the issue of compensability is put to a court, Pew said, the analysis is focused more on the "individualized scenario" presented by the worker and the worker's condition as opposed to the legality of marijuana.
He said marijuana is now being evaluated in terms of clinical efficacy and whether it can replace the use of narcotic medication, which is "a huge change in mindset" from just a few years ago.
Pew also said he thought "this is just the hem of the garment," and the availability of medical marijuana for workers "will not be stopping at these six (states)."
He said it would be "anyone's guess" on how long it takes for all the states to address the issue, but the management of claims for medical marijuana should be "a growing concern" nationwide.
Some states have statutes that specifically say a comp carrier can't be ordered to pay for marijuana as a treatment for an injured worker. These include Arizona, Colorado, Michigan, Montana, Oregon and Vermont.
Gelman said New Jersey has a public policy in favor of enforcing settlement orders. It also has a public policy for reducing the use of narcotic medication.
What's more, Gelman said, it didn't seem as though the TPA were proposing any alternative modality of pain relief to the "perfectly legal" use of medical marijuana.
Also, under New Jersey law, the TPA was able to select Watson's treating doctor. So the TPA was "fighting against itself" by challenging the recommendations of the doctors it had approved to treat Watson in the first place.
Claimants' attorney Gary E. Adams of Pellettieri Rabstein & Altman said he thought the use of medical marijuana was likely to remain "controversial in New Jersey" for the foreseeable future.
He said French's ruling was the first written decision on the compensability of medical marijuana, to the best of his knowledge, although there have been other judges who have entered orders for carriers to pay up.
Adams said he suspects the issue doesn't come up very often, since employers control the provision of medical care in New Jersey, so the doctors who are treating workers "rarely take controversial positions in terms of the treatments they advocate for."
He said he thought Watson's case was "kind of a perfect storm," where the treating doctor was in favor of the worker's use of marijuana, the worker was using high levels of narcotic medication, and the marijuana was effective in reducing the worker's narcotic use.
Given this scenario, Adams said he thought "the judge came to the only logical conclusion she could."
Attorney Philip Faccenda represented Watson. He could not be reached for comment on Tuesday.
To read the decision in the Watson case, click here.
CORRECTION: Attorney Gary E. Adams was misidentified in two references in an earlier version of this story.