ALC tackles the tough stuff
Monday, October 12, 2020 | 2852 | 0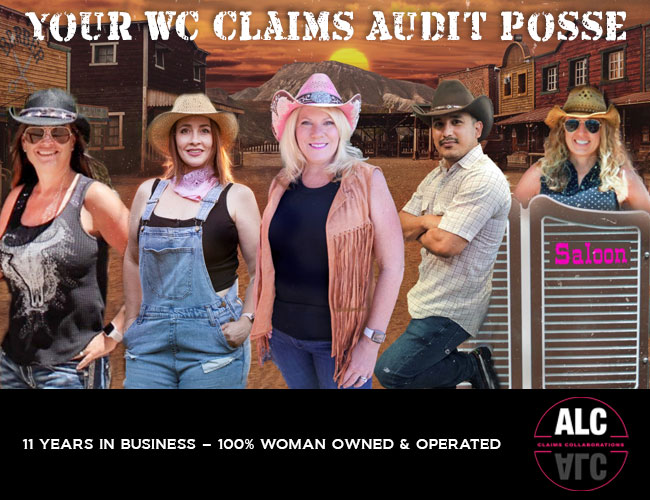 Our mission since company inception, eleven years ago, is to independently represent the risk paying community. 100% woman-owned by Angela Mudge, ALC is fiercely committed to serving only clients with policies or programs that fund their own loss costs. This includes more than 150 excess carriers, primary carriers, public entities, joint powers of authority, self-insured groups, self-insured employers, and employers in loss sensitive programs.
Over the years, our clients have proven this point - risk payers need an independent, focused, experienced, and collaborative advocate in managing their claims risk and loss costs. We are a hands-on company, onsite or virtual, focused on your issues, your needs, your money. Audits, claims oversight, performance analytics, benchmarking, cost reduction, operational improvement, and solution design are all part of the ALC difference in driving claims outcomes that work for risk payers.
Workers' compensation claims are complex and challenging, and even more so today with the pandemic and recession impacting employers and workers. Disputes, dissention, litigation and fraud all tug for claims dollars from risk payers. Differing service models among third party administrators, law firms and ancillary providers adds to frustration and, at times, a feeling of helplessness as a risk payer. ALC's experience and a collaborative style calms those waters and focuses the action back on the risk payer's outcomes.
Team ALC has honed its skills in the trenches of workers' compensation claims over the past 30 years. We are not generalists or consultants on a superficial level. We are experts from doing the work and knowing how better outcomes can be achieved. Our collaborations team is located regionally throughout California, enabling us to serve a broad portfolio of clients. We are on pace this year to audit more than 2,100 claims and to provide claims oversight on more than 3,600 claims across multiple employers and employer groups.
Collaboration doesn't just happen effectively in workers' compensation, and less often than you might think. First, it's hard work to pull diverse players together and agree on the strategy. Second, those players can have competing agendas - well-intentioned but not coordinated or collaborative. Third, there are those on the other side of the ball who want the risk payer's money. It takes grit, drive, analytics, benchmarks, know-how, innovation, and street-smarts to navigate the claims world. Who gets it done and who does not; when to fight and when to negotiate; how to get it closed and keep it closed; where the gaps are; finding the leaks and the missed opportunities. ALC tackles the tough stuff.
As we close an unpredictable 2020 and move toward uncharted waters in 2021, risk payers that choose to audit their service providers, or partner in dynamic claims oversight, will benefit from the investment made. Choosing ALC as your independent partner ensures that your needs are always at the forefront of your investment.
To learn more please contact Angela Mudge, Owner & CEO, at (916)224-8351 or by email at amudge@alcclaimscollaborations.com.