2022 Comp Laude® Award Winners Revealed in Huntington Beach
Wednesday, October 5, 2022 | 927 | 0
Huntington Beach, CA - October 5, 2022: The 2022 Comp Laude® Award recipients were revealed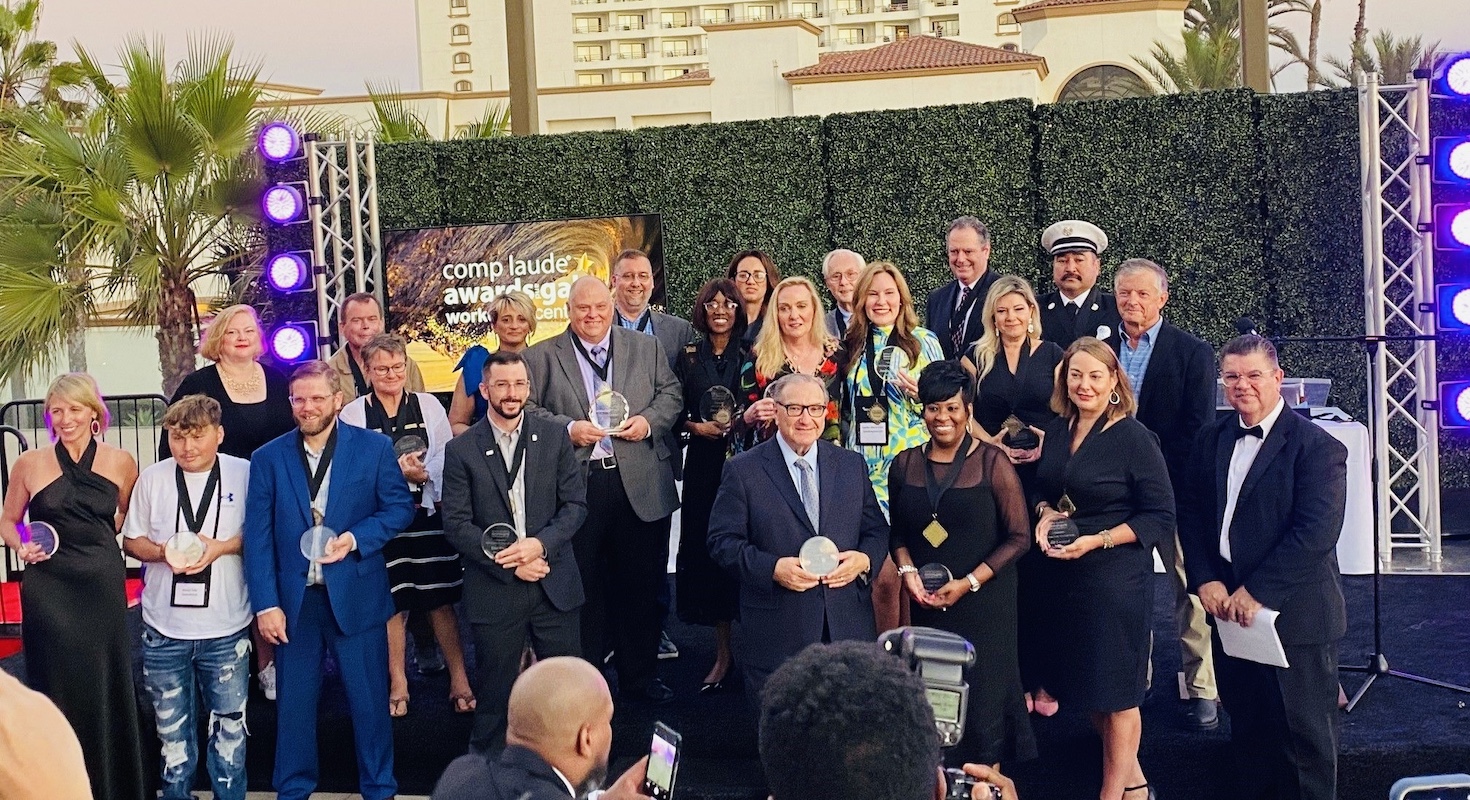 Tuesday evening, October 4, in an in-person ceremony at the Paséa Hotel and Spa in Huntington Beach, CA.
Yvonne Guibert and Rafael Gonzalez, Esq. co-hosted the awards ceremony that took place on Paséa's Ocean Lawn with the sun setting over the Huntington Beach Pier. Yvonne Guibert, vice president of BI WorkCompCentral, said "It is my pleasure to honor the late David J. DePaolo by bringing his vision to life. He wanted to change the narrative of our industry to be more positive and I believe we are doing that through the engagement that occurs at this event."
The event borrows its name from the Latin term often used in academia "cum laude" meaning "with honor." Awards were presented to individuals representing different stakeholder segments of the workers' compensation industry, even injured workers. Awards were presented in 11 categories:
Applicant/Claimant Attorney, Bob Burke

Defense Attorney, Jennifer Morris Jones

Doctor/Physician, Dr. Robert Snyder

Doctor/Physician, Dr. Melissa Tonn

Medical Professional, Silvia Sacalis, PharmD

Service Provider/Vendor, Eddy Canavan

Claims Professional, Jill Leonard

Work Comp Philanthropy, Kristen Chavez

Risk Professional, Kurt Leisure

Industry Leader, Shawn Crosby

Industry Leader, Joseph Paduda

Injured Worker: Victor Aguirre, Tyler Wilson, Brance Tully, Josh Shutts, Dave and Amanda Repsher

People's Choice Award, Text-to-Vote winner, Natalie Torres, with her story "It's All Perfect Already"
A new award was introduced called "Be the Change." The recipient of this award will be hand-selected each year from the list of finalists, and given to the person who most embraces the Comp Laude® mission and spirit, and who exhibits the ability to change the narrative through their actions. The first "Comp Laude® Be the Change" award was presented to Patrizia Cassaniti. She traveled from Sydney, Australia to share the story of her son Christopher and how his tragic death shortly after his 18th birthday inspired her to speak out about workplace safety. Learn more about Patrizia and the foundation she started called "Touched by Christopher" here.
The top two awards are chosen by an advisory committee from the finalists and are presented to individuals selected for their career contributions and observed impact on the workers' compensation industry. This year awards were presented to:
Magna Comp Laude® (with great honor), Bryan Conner, American Airlines

Summa Comp Laude® (with highest honor) also known as the David J. DePaolo Award, Dawn Watkins, LAUSD
For a complete list of 2022 nominees and finalists, click here. All stakeholders are encouraged to nominate a colleague for next year's awards when we open for nominations. A call for nominations will be issued in January 2023.
About WorkCompCentral
Headquartered in Greenwich, CT, BI WorkCompCentral is a specialty digital media company, producing industry news, tools, continuing education courses, and other live events for the workers'® compensation community and can be reached at 805-484-0333 or www.workcompcentral.com.
WorkCompCentral media contact:
Yvonne Guibert, vice president
Cell: 813.245.0193